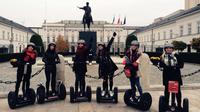 Warsaw Super SEGWAY Historical Tour
Segway Tours
Price $96.85
If you are in Warsaw for the first time, we do recommend the full historical tour that takes 3 hours. That track covers Old Town area, part of city center, also there are some parks on the way for you to'explore. All that with the narration of one of our instructors who are born and raised here, so you will be provided with the decent amount of knowledge about each location and stop.The track will'give you a great overview of how the city used to look like back in the day, and how it presents itself now. We can deliver you a solid dose of fun and information in the same time. Our capital city has a very interesting history and a lot of unbelievable events took place here, such as the Warsaw Uprising or the Uprising in The Jewish ghetto. The whole place is filled with marvellous monuments, sculptures, and paintings, which are the memorial of the past. All that while moving completely effortless.'During those 3 hours we will be able to cover a distance'equivalent to whole day of walking.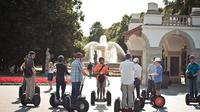 3-Hour, Small-Group Warsaw Segway Tour
Segway Tours
Price $95.71
Hop aboard your own personal Segway for a 3-hour small-group romp through Warsaw's historic highlights, led by a certified local tour guide. You'll see the Presidential Palace, Royal Castle, Tomb of the Unknown Soldier, Multimedia Fountain Park, Saxon Garden, St. John's Cathedral, the site of the Nazi-era Jewish Ghetto, and more.