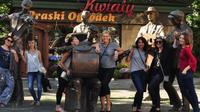 Warsaw Small Group Walking Tour Including Entrance Fee to Neon Museum and Local Food and Drink Samples
Walking Tours
Price $70.19
In Warsaw, it's not the Wild West ' it's the Wild East! Discover the most fascinating neighbourhood in the city, on the hipster east bank of the Vistula River. Check out post-industrial buildings that have been converted into art spaces, clubs, and caf's.Special Offer - Book by July 18 2017 and travel by Dec 31 2017 to save 20% off our previously offered price! - Book Now!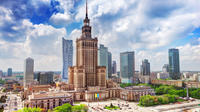 Warsaw in a Nutshell Walking Tour
Walking Tours
Price $142.43
Are you on the look out for tours and departures? Warsaw is the perfect place that will offer you the thrilling experience you never imagined. Favourably, the forthcoming season is one of the greatest times to visit Warsaw, as it will be less jammed and you will get to taste every bit of the optimum enjoyment Warsaw has to offer.